This has been a really great day. Unfortunately, this years' FIGZ is now over, but it was - again - a pleasure to be there and meet so many nice hobbyists. My special dedication goes out to Remco and Benno from
http://www.bennosfiguresforum.com/
who - again - hosted a really good miniature event.
I put a lot of photos into the aftershow-threat at Bennos' forum:
http://www.bennosfiguresforum.com/viewtopic.php?f=10&t=14096
where you can see pictures of other visitors as well (hopefully all people will have put their pictures into that section soon).
I've also posted there the pictures of all competition entries. Bad for me, the jury liked dwarfes and elves more then goats.
MEH!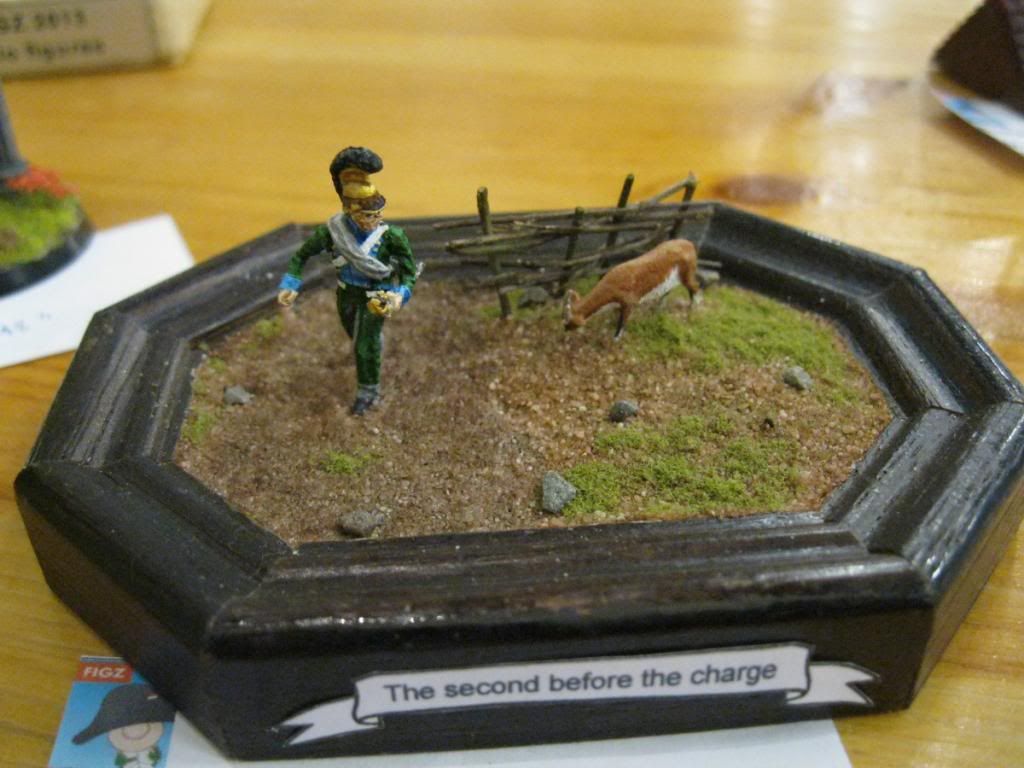 Well - no matter what, I said I'd paint a goat and I kept my word doing so. X-D
The figure is one that was left from the test sprues that Francesco (
http://franznap.com/
) gave me back at FIGZ 2012, a French lancer of the line. The goat is from the Pegasus farm set.
Thanks to Ralf, Dirk and Conny I learned some new things and will shortly start my very own tree-building experiments - the raw-materials are already ordered. I need to build a handful of trees in order to place my new figures between them:
French elite company hussars from ART miniatures. Finally, light infantry that deserves the name - being on scouting duty and not wavering sabres in that stupid full-charge-whatsoever-action. :-D
I have something really nice in mind, hopefully my limited diorama building abilities will do fine.
In some, I spend around 50 bucks on brushes, figures and coffee. Now ISSC Heiden will be my next event of this year. And I very luckily look forward towards FIGZ2014.
Time enough to prepare new beautiful things to exhibit. Which means: it's back to the brushes.
Oh - and don't forget stop eating hamburgers: