...here is another one.
Some of my regular visitors may remember that back in October 2011, I got a test shot of HaTs' new Brunswick cavalry into my hands (for those who don't remember:
http://zedsnappies.blogspot.de/2011/10/sneak-preview-2-forthcoming-prussians.html
) and that I was not too happy with the overall appearance of these figures.
I thought about alternative ways of painting for them and for the lancers, I really found one: the seventh Prussian Uhlan regiment. It was one of the few that did not wear the classic Uhlan uniform and I only had to make minor modifications and - of course - use a Prussian horse instead of the Brunswick ones.
Well - here's the result: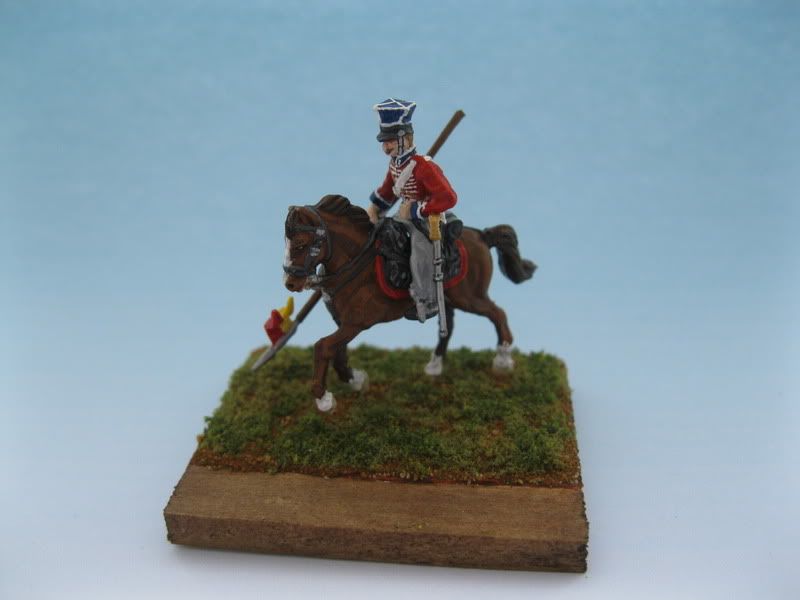 I had that figure laying half way painted in my cabinet since last October. To be honest, I just wanted to get rid of another started figure. I stopped painting it when by painting the Brunswick lancer, I recognized how ugly this rider really is. If you take a closer look at it, you will see that the sculptor has missed to give that dude an appropriate face. Additionally, the right arm looks a bit too large in comparizon with the rest of the figure. Well... not a beauty, this miniature.
But at last, I got another started work off my desk and filled my armies with another not so common unit. Fair enough. And now back to my other projects - I still have Italian hussars and Westphalian cuirassiers in an advanced stage of painting...
...and a bunch of Hanoverian infantry as well...
Oh - btw: Happy Easter!